Serving Mesquite & Plano Since 2006
Avoid An

Emergency

With Air Conditioner Maintenance
Imagine a scorching day in August, eagerly anticipating a refreshing oasis upon returning home after a day of outdoor fun. Instead, you find yourself in a stifling house with a malfunctioning AC system. Your frantic search for air conditioner repair services prompts questions about wait times and costly bills.
With regular air conditioner maintenance from FERSA HVAC Heating & Air, such AC emergencies can be largely avoided. We offer air conditioner tune-up services to our valued customers in Mesquite and Plano, providing peace of mind when you need it most. Our Pro Service Plans make air conditioner maintenance effortless, while our coupons and specials make it cost-effective.
Schedule Your Service Today!
Looking for a trustworthy team to repair your A/C?
Schedule Service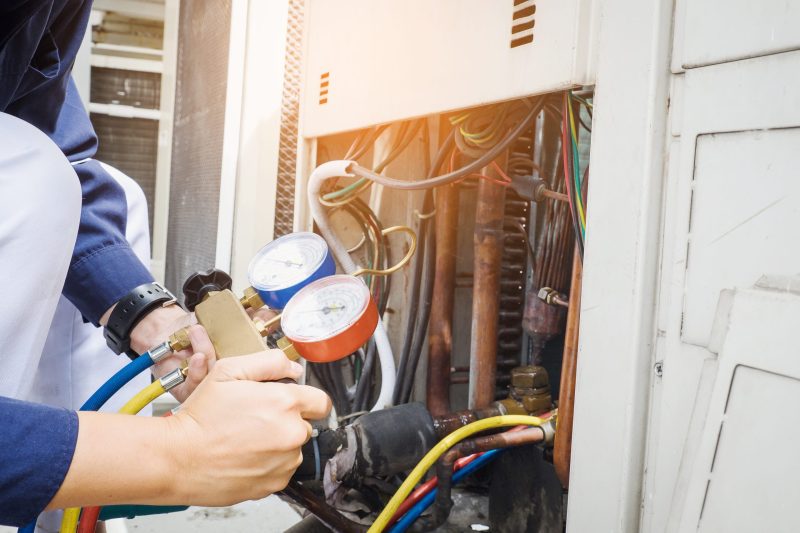 Similar to your car, your air conditioner requires regular maintenance to safeguard your investment and ensure optimal performance. An air conditioning system usually comprises an outdoor and an indoor unit linked by copper tubing and electrical wiring. The compressor, found in the outdoor unit, circulates refrigerant through the system via the tubing. The indoor evaporator coil removes heat from the indoor air, while the outdoor condensing coil dispels it. The cooled air is then pushed into your home through the ductwork while the hot air is sent outside.
In Mesquite and Plano, like any other machine, air conditioning systems gather dirt, dust, and debris during normal use, causing internal components to degrade over time. Additionally, moisture from condensation can result in microbial growth and corrosion of the evaporator and condenser coils. Ignoring these problems can cause your air conditioner to function poorly, operate less efficiently, or break down completely.
What Happens During Air Conditioner Maintenance
To ensure your system is fully operational and prepared for the hot summer season, air conditioner maintenance is best scheduled during spring. When you book a tune-up appointment with FERSA HVAC Heating & Air, one of our NATE-certified air conditioning technicians will:
Clean and inspect all internal components and systems
Inspect air filter and replace it if necessary
Ensure system is operating properly and safety
Measure refrigerant charge and make needed adjustments Don't hesitate to inquire about our Indoor Air Quality products.
Your health and well-being is our top priority. We offer the nation's leading tech in IAQ to keep your family running in perfect form year round with FERSA HVAC Heating & Air.
Proudly Serving Mesquite, Texas Since 2006
If your air conditioning system is not working properly, whether it's a broken A/F or condenser unit, an outdoor overflow valve leak, or simply not cooling, FERSA HVAC Heating & Air is here to help. Our team has the necessary skills, expertise, and integrity to promptly resolve any A/C issue you may be experiencing. In case of an emergency, our 24/7 hotline is always available, so don't hesitate to contact us for assistance.
At FERSA HVAC Heating & Air, we understand that heating problems can cause significant inconvenience. Fortunately, our experts can quickly identify and diagnose almost any issue with your heating system, and we offer detailed quotes to help you make informed decisions about repairing your furnace and getting it up and running again.
The health and well-being of our customers is our top priority at FERSA HVAC Heating & Air. That's why we offer a wide range of indoor air quality products to help ensure that your family stays in top form.