Serving Mesquite & Plano Since 2006
The

most trusted

Ventilator Repair & Installation in DFW!
In Mesquite and Plano, modern homes are built to be tight and energy efficient, which can lead to stale and stuffy indoor air. This is where Energy Recovery Ventilators (ERVs) come in handy. With the help of FERSA HVAC Heating & Air, you can improve your indoor air quality and ensure proper ventilation in your home. Our ERVs are designed to recover and exchange energy from the air, reducing energy costs while bringing in fresh air from outside. Don't let improper ventilation put you and your family at risk. Contact us at (214) 449-8475 to learn more about our ERV solutions.
Schedule Your Service Today!
Looking for a trustworthy team to install your Ventilator?
Schedule Service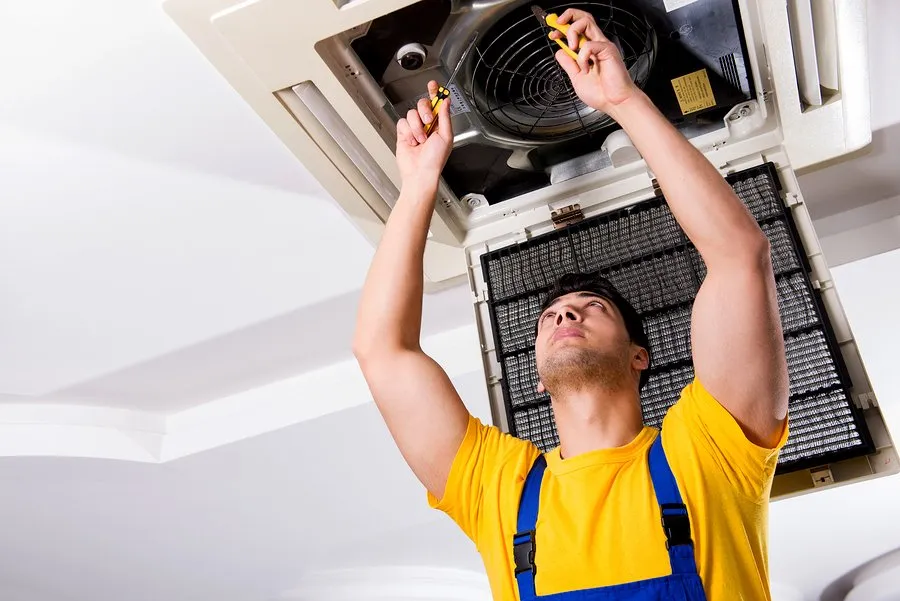 What Is an ERV?
If you're looking for a way to keep the air in your Mesquite or Plano home clean and fresh, consider an energy recovery ventilator (ERV) from FERSA HVAC Heating & Air. Modern homes with tight, energy-efficient construction can lead to stale and stuffy indoor air, which can be uncomfortable and even dangerous. An ERV is a simple mechanism that transfers heat and moisture to keep you comfortable indoors.
During winter months, the ERV expels the stale, warm air from inside as cold air from outside comes in. This process uses very little energy to heat the clean air coming into the home. In the summer, the process is reversed. The ERV removes the stale, cold indoor air as warm outdoor air flows in. The cold air cools the incoming air from outdoors, reducing the energy needed to cool the air back to your desired temperature.
An ERV can help remove allergens and pollutants from your home, creating a healthier environment for you and your family. Contact us at (214) 449-8475 to learn more about how an ERV can improve your indoor air quality.
Why Install an ERV?
For a home with fresher air free of allergy-triggering pollutants and optimal heating and cooling efficiency, an ERV installation may be the solution. ERVs transfer energy and moisture from outgoing air to incoming air, making your home's climate more comfortable and humidity levels balanced.
At FERSA HVAC Heating & Air, we provide ERVs that efficiently and silently introduce fresh air into your home. Our ERVs also pre-condition the incoming air to match the temperature of the inside air during any season. Contact us at (214) 449-8475 to learn more about our ERV solutions.
Choose FERSA HVAC Heating & Air
Our licensed experts serve residential and light commercial customers across Greater Mesquite and Plano. We install units from
Amana
® and other tops brands, and we repair all brands. Looking for service, too? Become a Pro Service Plan Member today.
Call FERSA HVAC Heating & Air at (214) 449-8475. We are known for getting it right the first time! Don't hesitate to inquire about our Indoor Air Quality products.
Your health and well-being is our top priority. We offer the nation's leading tech in IAQ to keep your family running in perfect form year round with FERSA HVAC Heating & Air.
Proudly Serving Mesquite, Texas Since 2006
If your air conditioning system is not working properly, whether it's a broken A/F or condenser unit, an outdoor overflow valve leak, or simply not cooling, FERSA HVAC Heating & Air is here to help. Our team has the necessary skills, expertise, and integrity to promptly resolve any A/C issue you may be experiencing. In case of an emergency, our 24/7 hotline is always available, so don't hesitate to contact us for assistance.
At FERSA HVAC Heating & Air, we understand that heating problems can cause significant inconvenience. Fortunately, our experts can quickly identify and diagnose almost any issue with your heating system, and we offer detailed quotes to help you make informed decisions about repairing your furnace and getting it up and running again.
The health and well-being of our customers is our top priority at FERSA HVAC Heating & Air. That's why we offer a wide range of indoor air quality products to help ensure that your family stays in top form.