Serving Mesquite & Plano Since 2006
Depend on us for

furnace repair services.
Greater Mesquite and Plano can experience harsh winter weather and low temperatures. Furnace problems in our area can not only lead to discomfort but also serious and expensive issues such as burst pipes. When you require furnace repair service, you need a team that is responsive, knowledgeable, and capable of doing the job correctly. Call (214) 449-8475 to schedule an appointment with FERSA HVAC Heating & Air, and we will be there ASAP.
We offer furnace repair services that will have your system back up and running as quickly as possible. At FERSA HVAC Heating & Air, we provide Pro Service Plans to make furnace repair a hassle-free experience, as well as coupons and specials to make it affordable for you.
Schedule Your Service Today!
Looking for a trustworthy team to repair your Furnace?
Schedule Service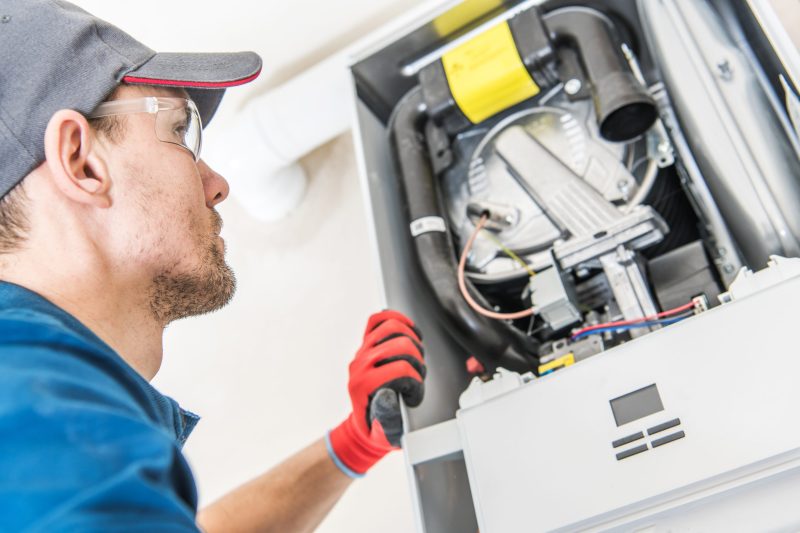 Before calling for furnace repair, there are some simple solutions that homeowners can check for themselves if they wake up or come home to a cold house in the dead of winter. Here are a few things to check:
Make sure the thermostat is set correctly.
Checking the thermostat should be the first step when experiencing heating issues, as it is a common culprit. It is not uncommon for homeowners to inadvertently set the thermostat incorrectly, or for family members to make adjustments without informing others. If your home feels cooler than expected, verify that the thermostat is set to heat mode and is programmed to the appropriate temperature.
Make sure power to the furnace is on.
If you're experiencing a complete furnace shutdown, it might not necessarily be a furnace repair issue, but rather a power issue. To start troubleshooting, check if a circuit breaker or fuse was tripped or blown. In your circuit panel, the circuit switches should be labeled, and one will be designated for the furnace. Manually test the breaker by flipping it back and forth. If you're in luck, the furnace will power on. If you're in Mesquite or Plano, and need professional furnace repair service, call FERSA HVAC Heating & Air at (214) 449-8475 to schedule an appointment with our expert technicians.
See if your furnace filters need to be changed.
If your furnace is working but seems to be struggling to produce heat, your problem may be clogged or dirty air filters. Filter changes are an important part of
furnace maintenance
, and they are also easy to overlook. This problem is fortunately very easy to fix with a filter change. Don't hesitate to inquire about our Indoor Air Quality products.
Your health and well-being is our top priority. We offer the nation's leading tech in IAQ to keep your family running in perfect form year round with FERSA HVAC Heating & Air.
Proudly Serving Mesquite, Texas Since 2006
If your air conditioning system is not working properly, whether it's a broken A/F or condenser unit, an outdoor overflow valve leak, or simply not cooling, FERSA HVAC Heating & Air is here to help. Our team has the necessary skills, expertise, and integrity to promptly resolve any A/C issue you may be experiencing. In case of an emergency, our 24/7 hotline is always available, so don't hesitate to contact us for assistance.
At FERSA HVAC Heating & Air, we understand that heating problems can cause significant inconvenience. Fortunately, our experts can quickly identify and diagnose almost any issue with your heating system, and we offer detailed quotes to help you make informed decisions about repairing your furnace and getting it up and running again.
The health and well-being of our customers is our top priority at FERSA HVAC Heating & Air. That's why we offer a wide range of indoor air quality products to help ensure that your family stays in top form.