Serving Mesquite & Plano Since 2006
The

most trusted

air conditioning repair in DFW!
In the scorching Texas summer, your air conditioning system is vital to your family's health and comfort. When your system requires repair service in Mesquite and Plano Metroplex, you need a responsive, knowledgeable team who will get the job done correctly. That's where FERSA HVAC Heating & Air comes in. To request repair service, fill out the contact form on this page, and our service team will schedule your repair promptly.
At FERSA HVAC Heating & Air, we provide air conditioner repair services that will have your system up and running, and your home cool in no time. We are well-equipped to service all brands and offer Pro Service Plans to make air conditioner repair a breeze. Additionally, we provide coupons & specials to make our services affordable.
Schedule Your Service Today!
Looking for a trustworthy team to repair your A/C?
Schedule Service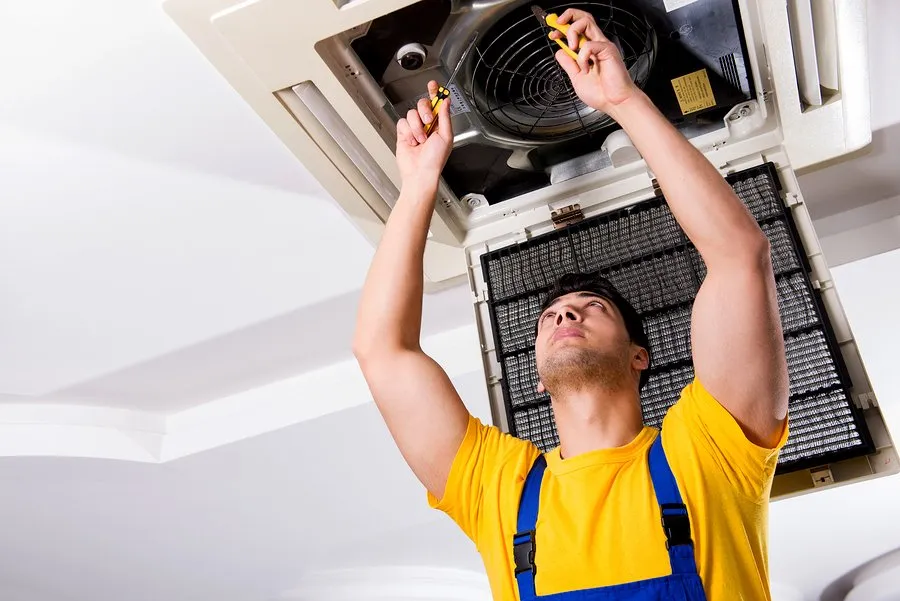 Common Air Conditioning Repair Issues
There are common issues with most air conditioning systems and handlers. Many can be fixed by simply understanding how they operate and what to look for.
My air conditioning system will not kick on.
If your air conditioning system is not turning on, it may be a simple fix such as replacing the thermostat batteries. If that doesn't work, check your thermostat settings to ensure the
cooling
system is on and the temperature is correct. If the problem persists, resetting the circuit breaker may help. However, if there is a connection problem preventing the motor and compressor from turning on, it's best to schedule air conditioning repair service.
The air coming from the vents is not cold.
Not performing regular
air conditioner maintenance
may result in a dirty air filter that can cause issues with your system. When an air filter becomes clogged, it restricts airflow and can eventually damage your condenser unit. Try changing the air filter immediately to see if this resolves the problem. To avoid future problems, make it a habit to change the air filter regularly or consider a Pro Service Plan for hassle-free maintenance. If the issue persists, there may be a connection problem preventing the motor and compressor from turning on, in which case you should schedule an appointment for air conditioning repair service.
My air conditioner is not keeping consistent temperatures.
If your air conditioning unit is not providing consistent cooling, it may be due to a coolant leak. A coolant leak can lead to low efficiency, high power consumption, and compressor damage. It's crucial to have your unit inspected by a knowledgeable expert, even if you don't see any visible signs of a coolant leak, to prevent any further problems. Additionally, if you're experiencing problems with the motor or compressor turning on, it's best to schedule an appointment for air conditioning repair service.
My air conditioner is making unusual noises.
If your air conditioner is having issues, it could produce a variety of unusual sounds. The type of sound you hear could indicate what the problem is:
Hissing sound – could mean a coolant leak
Clicking sounds when turning AC on and off – could be a relay problem
Thumping, rattling, or banging – could be an issue with a blower or motor assembly
Screeching sound – could indicate a compressor or fan motor problem
If you have been hearing odd noises, be sure to mention it to your technician.
Buzzing sound – might be from faulty electrical components Don't hesitate to inquire about our Indoor Air Quality products.
Your health and well-being is our top priority. We offer the nation's leading tech in IAQ to keep your family running in perfect form year round with FERSA HVAC Heating & Air.
Proudly Serving Mesquite, Texas Since 2006
If your air conditioning system is not working properly, whether it's a broken A/F or condenser unit, an outdoor overflow valve leak, or simply not cooling, FERSA HVAC Heating & Air is here to help. Our team has the necessary skills, expertise, and integrity to promptly resolve any A/C issue you may be experiencing. In case of an emergency, our 24/7 hotline is always available, so don't hesitate to contact us for assistance.
At FERSA HVAC Heating & Air, we understand that heating problems can cause significant inconvenience. Fortunately, our experts can quickly identify and diagnose almost any issue with your heating system, and we offer detailed quotes to help you make informed decisions about repairing your furnace and getting it up and running again.
The health and well-being of our customers is our top priority at FERSA HVAC Heating & Air. That's why we offer a wide range of indoor air quality products to help ensure that your family stays in top form.